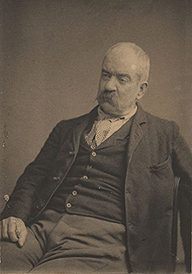 (October 28, 1836 - February 2, 1897)
Born and raised in Albany, New York, Homer Dodge Martin was encouraged to pursue an artistic career by Albany sculptor, Erastus Dow Palmer (1817-1904). During the early 1860s, Martin spent his summers in the Catskills, Adirondacks or White Mountains and composed expansive lake and mountain views, such as Adirondaks (1879), in his New York City studio each winter. A transitional figure in American landscapes during the second half of the 19th century, Homer Dodge Martin links the painters of the Hudson River School to the American followers of the French Barbizon artists and eventually Impressionism.

A pupil of William Hart for a short time, his earlier work was closely aligned with the Hudson River School. He was elected as associate of the National Academy of Design, New York, in 1868, and a full academician in 1874. In 1876, 1880, and 1881 he travelled in England. There Martin befriended the American expatriate artist James McNeill Whistler, who recognized his talent and invited him to work in his studio. He became familiar with the work of French artists Camille Corot and Eugene Boudin, and later adopted the looser brushwork and relaxed compositions of these artists, earning him the label of the "first American impressionist." Like many American painters in Europe at this time, Martin fell under the influence of the proto-Impressionist Barbizon school, which favored quickly executed on-site sketches over the detailed, studio-painted inventions of the Hudson River school. Thereafter his painting style gradually became darker, moodier, and more loosely-brushed. From 1882 to 1886 he lived in France, spending much of the time in Normandy. At Villerville he painted his Harp of the Winds, now at the Metropolitan Museum of Art, New York.

Martin returned to New York in 1887, and that year visited the seacoast, when it is likely that he painted Clam Digger. His eyesight failing, Martin relied more and more on memory to reconstruct his landscapes in paint. In hopes that the slower pace and invigorating climate might improve his health, in 1893 Martin joined his son in St. Paul, Minnesota. What today is considered Martin's finest painting, The Harp of the Winds: A View of the Seine (Metropolitan Museum of Art), was painted there in 1895, just two years before his death in Minnesota.

Examples of his work are in many important American museums, and private collections. Among these are "White Mountains from Randolph Hill" (1862); "Adirondacks" (1876) ; "Thames at Richmond" (1877); "Evening on the Saranac" (1878); " Sand Dunes on Lake Ontario" (1879 and 1886); " On the Neck, Newport, Rhode Island" (1880) ; and " Old Manor at Crique-bceuf, Normandy " (1885).

Reference Documents
Homer Martin: a reminiscence, October 28, 1836-February 12, 1897 By Elizabeth Gilbert Martin (1904)
Homer Martin: poet in landscape, by Frank Jewett Mather, Jr. (1912)
Letters from Elizabeth and Homer Dodge Martin - Smithsonian Archives
The Civil War and American Art - Smithsonian Exhibition (with link to the related book)